EVENTS
EXPOMOM 2015
Monday, May 25, 2015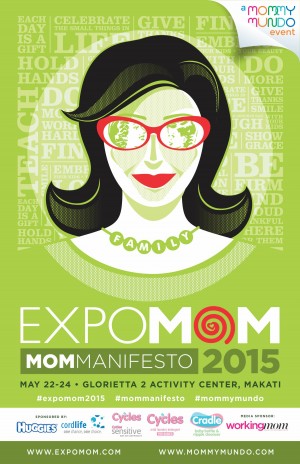 Mommy Mundo's Expomom launched last Friday, May 22 at the Glorietta Activity Center, featuring a lot of old time favorites and new products suited for new moms & upcoming mommas. I found stalls from established online shops such as Indigo Baby, Celestina & Co., Mommy Treats and My Baby Dragon, among others, as well as trusted brands such as Medela (c/o Medela Moms, Inc.), Philips Avent, Cycles and Huggies.
The front stage at the event where talks and other activities are held for the participants of the expo
Hubby going straight for the baby jerseys - Little Duncan of SA Spurs :)
Trademark Medela breast pumps sold with additional freebies if you purchase at the event;
I'd have to visit their head office instead when I'm around my 37th week to get a proper fitting
to maximize pump efficiency. Send an email to medelamoms@gmail.com to get their detailed
price list & FAQs - they're super responsive!
Other trusted pump brands like Ameda & Spectra from Baby Mama (http://www.babymama.ph)
Lactation goodies from my favorite Mommy Treats - will be stocking up on these again in a few months
I found Spiffies teeth wipes! Perfect even for my toddler when we eat out or travel and I don't have his toothbrush, or
just for days he doesn't want to cooperate with our teeth cleaning ritual. Can be used by babies (especially the formula-fed ones) from 4 months & up
an assortment of baby-carriers including Huggle Wrap & I-angel (not in photo) for the baby-wearing lovers
Adorable Clue Bebe Tutus and Halo Philippines SleepSack© available at sale prices! (@halophilippines on IG)
products even for your pre-schoolers
how cute is this teepee??? too bad we don't have enough space for this at home yet
If you missed out on the expo this year, follow Mommy Mundo (IG: @mommymundo) or Expo Mom (IG: @expomom) for announcements on upcoming similar events. 'Till next year!