Test driving the Baby K'tan
I'm finally no longer confined to our bed where life these past few weeks has been nothing but breastfeeding and burping (with occasional stolen fractions of naps). As Joaquin has settled into a schedule that resembles that of a normal person's, I've decided to try wearing him around the house
so I can get other things done.
I had previously thought I would have absolutely no use for a baby carrier, since we had gotten a stroller and the picture I had back when we were doing baby shopping was either was only going to be used for leisure or travel only. But by the time Joaquin slipped past his 1st month, the house was a mess and I was slightly beginning to lose it from missing out on the house management routine I had gotten accustomed to. I figured, I would need a way to take care of chores without the baby wailing in the background each time I left him alone in our room.
ring sling
So I went ahead and read up on a variety of baby carriers in the market. Since I was going to be alone in the house with the baby until my husband F came home from work, I immediately had a preference for carriers that were going to be easy for me to put on by myself. There were ring slings, which looked fairly easy to use but also which I foresaw was going to be uncomfortable for me in the long run since all the weight would be on one shoulder only. Then there was the backpack type with all the straps, snaps and buckles, so that looked a little bit too complicated for me if I was going to have to set it up alone.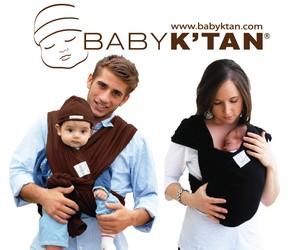 And then I came across the
Baby K'tan
- a carrier similar to a wrap-type one, without actually having to do any wrapping. I went and checked the website to see how it worked, where they provided narratives, illustrations and even videos on how to use it and it did indeed look fairly simple to handle by myself. It also seemed great that it could be used in 6 different positions, including one where the baby can face front.
Unfortunately, local stores don't carry the product. But, lucky for those who are interested in purchasing their own Baby K'tan, local online shops now sell it. You can check out
My Baby Dragon
or
Zalora
- they have it in the same retail price. I ended up having 2 Baby K'tan carriers because I had initially ordered from the multiply shop, but the smallest size they had available (Small) was actually big on me. So I bought from Zalora since they had an XS that time. Now I have an extra carrier that I never got to use , so if you're interested, let me know and I'll sell it at a cheaper price. :) Both sets delivered to me came with the actual 2-loop carrier, the sash that doubles as a pouch that can contain the carrier, a manual, and a registration card.
sash / pouch
manual & registration card